Electric self-propelled scissor lifts – Proven performance – Safe.
SC Series Electric Scissor Lifts have a compact footprint and are designed for optimal performance, increased productivity and ease of maintenance. Operators can drive, steer and lift
directly from the platform, at any height, to achieve continuous operation. These scissor lifts offer load capacities of 500 to 700lbs and maximum working heights from 19 to 39.3 feet.
Work quieter and safer with NOBLELIFT indoor/outdoor, zero emission, low maintenance scissor lifts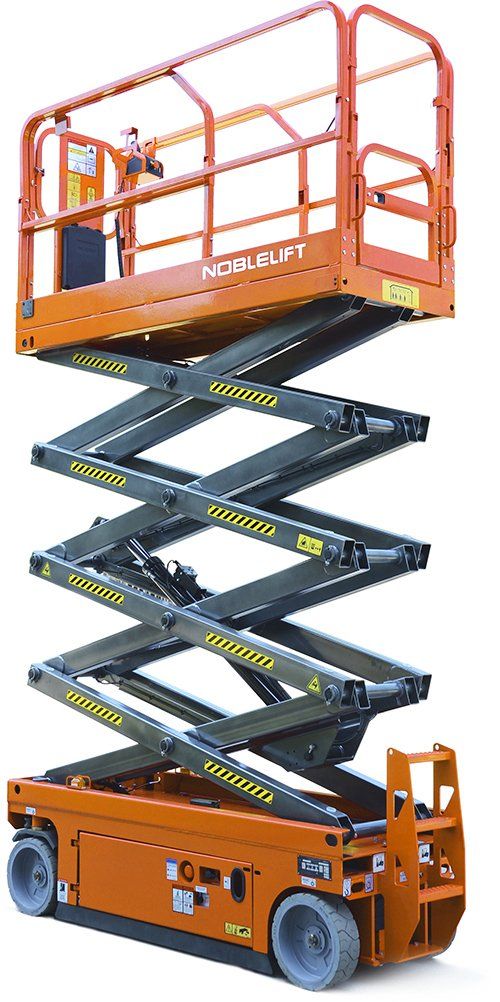 SCISSOR LIFTS

  Self-propelled electric
(4) Models available. Maximum working heights from 26′ to 46′

 507 to 705 lbs. capacity

 Large working platforms with built-in extension
platforms

AC Power and airline to platform

 Full height travel improves operator efficiency

 Portable operating boxes allow users to operate
easily outside the platform

 Tight turning radius for operating in tight spaces

 Many safety features
FEATURES
Pot Hole Protection System
When the operating vehicle is in a lifted position, the pot hole protection board will automatically open. 
Self-Locking Platform Door
Self-Locking platform door ensures worker safety.
Proportional Control Handle for lifting and traveling ensures smooth operation.
Incline Protection
When the operating vehicle exceeds maximum operating angle, this system will automatically alarm and disable ALL actions.
Swing Out Component Trays
Swing out component trays on chassis sides allows for easier maintenance.
Safety Maintenance Support Bar 
Provides support during maintenance ensuring personal safety.
Front Wheel Hydraulic Dynamic Braking eliminates sliding while working on slopes.
Emergency Lowering System
When power is lost, this system 
will safely bring the operator
to the ground.
SPECIFICATIONS
MODEL                                            SC1930EC                            SC2632EN                            SC3345E                            SC3945E
Unit Type                                                                              Electric Scissor Lift, Front Wheel Drive
Load Capacity                              507lb                                     507lb                                  705lb                                705lb
Max Working Height                     26′                                          32′                                      39′                                    46′
Power                                      4x6V/220Ah                          4x6V/232Ah                        4x6V/232Ah                     4x6V/280Ah
Integrated Charger                    24V/30A                               24V/30A                              24V/30A                            24V/30A
Platform Size (LxW)                  66″x29″                                  89″x32″                               89″x44″                              89″x44″
Max Gradeability                         25%                                        25%                                   25%                                   25%
Max Working Slope              1.5/3 Degrees                       1.5/3 Degrees                    2/3 Degrees                    1.5/3 Degrees
Turning Radius                           68.9″                                       86.6″                                  98.4″                                  98.4″
SC2632EN Self-propelled scissor lift – 26ft plat arm height
SC Series Electric Scissor Lifts have a compact footprint and
are designed for optimal performance, increased productivity
and ease of maintenance
*Hydraulic drive motors
*Fits through most standard doorways
* Drive at full height
* Proportional lift and drive controls
* Dual front-wheel drive
* Small turning radius
* 25% gradeability
SC2632EN Self-propelled scissor lift – 26ft plat arm height
SC Series Electric Scissor Lifts have a compact footprint and
are designed for optimal performance, increased productivity
and ease of maintenance
*Hydraulic drive motors
*Fits through most standard doorways
* Drive at full height
* Proportional lift and drive controls
* Dual front-wheel drive
* Small turning radius
* 25% gradeability